学際領域ゼミ
遺伝病治療薬開発の基盤となる翻訳品質管理機構の解析
2015.6.25 平成27年度第1回学際領域ゼミ
東北大学大学院薬学研究科遺伝子制御薬学分野 教授 稲田 利文 先生
Professor Toshifumi Inada from the Graduate School of Pharmaceutical Science, Laboratory of Gene Regulation, presented on 25/06/2015 a course on "Analytical study of development of medicine treatment of genetic disease based on translation quality management system".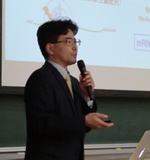 The mutations that may cause hereditary diseases are mainly due to either a mis-sense mutation which is due to a replacement of an amino acid, a frame shift mutation due to a nucleotide loss or insert, or a non-sense mutation with the replacement of codon-sense with a premature codon stop promoting premature translational termination resulting in a short chain protein model this cause anywhere from 5–70% of the individual cases of most inherited diseases. A stringent quality control system watches the accuracy of gene expression to prevent truncated or aberrant proteins potentially harmful that may cause diseases as Duchenne muscular dystrophy or cystic fibrosis. One of among them is nonsense-mediated mRNA decay (NMD) pathway which is responsible of the elimination of aberrant mRNAs containing prematuretermination codons (PTC) (Kuroha et al., 2009). Studies in model organisms namely plants, or vertebrate and invertebrate have led to the identification of the effectors of the NMD pathway (Behm-ansmant et al., 2007). The common one to all the models and NMD crucial factor, is up frameshift 1 protein (Upf1) which is recruited to ribosomes in a faux 3-UTR-dependent manner to stimulates a quick degradation by the proteasome of the aberrant protein(Kuroha et al., 2013). The recognition system of abnormal translation termination depends on the position of PTC on the mRNA, it can be splicing-independent when the codon stop is far from the poly A chain, or splicing-dependent when the abnormal codon stop is 55 nucleotides upstream of the 3′-most exon-exon junction for both cases the mRNA is subject to NMD.
In mammalian cells the recognition of PTCs occurs during the translation and is dependent on their presence on the mRNA with the splicing-dependent exon junction complex (EJC). SMG-1 is responsible of the phosphorylation of the trans-acting factor Upf1, this phosphorylation and NMD triggering require an association between the EJC and SURF namely composed of SMG-1, Upf1, the translation termination release factors eRF1 and eRF3 via Upf2 and Upf3 (Kashima et al., 2006).
One of the most promising therapeutic approaches for treating hereditary diseases as Duchenne muscular dystrophy (DMD), which is the commonest form of muscular dystrophy caused by lack of dystrophin, is antisense-mediated elimination of frame-disrupting mutations by exon skipping. However, this approach faces two major hurdles: limited applicability of each individual target exon and uncertain function and stability of each resulting truncated dystrophin. Skipping of exons 45–55 at the mutation hotspot of the DMD gene would address both issues to minimize self- or heteroduplex formation and give an active dystrophin potein.The team of Aoki designed an antisense oligo (AO) morpholino mixtures tested on H2K-mdx52 cells and Mdx52 mouse model lacks exon 52 in the mRNA of the murine Dmd gene, they showed that the mixtures of 10 AOs, demonstrated to skipping all 10 exons out of frame (45-55) in vitro and systemic injections of 10 AOs induced extensive dystrophin expression at the subsarcolemma in skeletal muscles throughout the body, producing up to 15% of wild-type dystrophin protein levels, accompanied by improved muscle strength and histopathology without any detectable toxicity (Aoki et al., 2012).

Another study conducted by Cirak et al, demonstrated that dose escalation study in Duchenne muscular dystrophy (DMD) patients using the morpholino splice-switching oligonucleotide AVI-4658 (eteplirsen) induces skipping of dystrophin exon 51 in patients with relevant deletions, restores the open reading frame and induces dystrophin protein expression after intramuscular injection. That dystrophin expression was accompanied by an elevated expression of α-sarcoglycan, β-dystroglycan (BDG) and— in relevant cases— neuronal nitric oxide synthase (nNOS) at the sarcolemma. The nNOS relocalized to the sarcolemma expression was in Duchenne patients in whom the dystrophin deletion left the nNOS-binding domain (exons 42–45) intact, whereas this did not occur in patients with deletions that involved this domain. Their results indicated also that the novel internally deleted and shorter dystrophin induced by skipping exon 51 in patients with amenable deletions, can also restore the dystrophin-associated complex (Cirak et al., 2012).
Another kind of drugs capable of suppressing premature termination and selectively induce ribosomal read-through of premature but not normal termination codons. One of them is PTC124, it was optimized using nonsense-containing reporters that promoted dystrophin production in primary muscle cells from humans and mdx mice expressing dystrophin nonsense alleles, and rescued striated muscle function in mdx mice within 2–8 weeks of drug exposure. PTC124 was well tolerated in animals at plasma exposures substantially in excess of those required for nonsense suppression (Welsh et al., 2007).
Another aspect involving NMD in tumor immunity had been treated in the class. The tumors escape the immune system because they do not express potent tumour rejection antigens (TRAs), and the lack of potent and broadly expressed TRAs impedes the development of effective vaccination protocols with effective adjuvants to stimulate a robust and durable immune response. Pastor et al., described an alternative approach in which the expression of new and potent antigens are induced in tumour cells by inhibiting nonsense-mediated messenger RNA decay (NMD). Small interfering RNA (siRNA)-mediated inhibition of NMD in tumour cells led to the expression of new antigeni determinants and their immune-mediated rejection, and concluded that tumour-targeted NMD inhibition forms the basis of a simple, broadly useful, and clinically feasible approach to enhance the antigenicity of disseminated tumours leading to their immune recognition and rejection. The cell-free chemically synthesized oligonucleotide backbone of aptamer–siRNAs reduces the risk of immunogenicity and enhances the feasibility of generating reagents suitable for clinical use (Pastor et al., 2012).
Regarding cancer, the pathogenesis of myelodysplastic syndromes, showing deregulated blood cell production with evidence of myeloid dysplasia and a predisposition to acute myeloid leukaemia, is incompletely understood. In a recent study the whole-exome sequencing of 29 myelodysplasia specimens, which unexpectedly revealed novel pathway mutations involving multiple components of the RNA splicing machinery, including U2AF35, ZRSR2, SRSF2 and SF3B1, showed frequent splicing pathway mutations at a rate of 45 to 85% especially in  neoplasms showing features of myelodysplasia. Most of the mutations affected genes involved in the 39-splice site recognition during pre-mRNA processing, inducing abnormal RNA splicing and compromised haematopoiesis and thus providing the evidence of the involvement of the genetic alterations of the major splicing components in human pathogenesis, leading to a trail for a novel therapeutic possibility for myelodysplasia (Yoshida et al., 2011).
Overall the medication used intranslation alterations is the inhibition of the translation with antibiotics, then a change in the genetic code with read-through agents, and finallynon-natural amino acids for new ring peptide use.
The team of Prof. Hiroaki Suga suggested a novel treatment approach by presenting a highly flexible tool for tRNA acylation based on an artificial ribozyme, referred to as flexizyme. This novel tool has the feature to charge virtually any desired amino and hydroxy acids onto any arbitrarily chosen tRNAs, and thus the genetic code can be completely reprogrammed. Using this tool, non-standard peptides containing various non-proteinogenic (non-natural) amino acids can be synthesized using the combination of the flexizyme system a reconstituted cell-free translation system, and thus reprogramming the genetic code. The genetic code reprogramming involves the reassignment of codons from proteinogenic amino acids to non-proteinogenic ones via multiple sense suppressions. This new technology brings the possibility of simultaneously incorporate multiple non-proteinogenic amino acids into peptides, which represents a major advantage over the previous non-sense suppression methodology.
Prof. Inada talked about his major project which concerns the highlighting of a new function of poly-A tail. In fact, a novel mRNA surveillance for mRNA lacking a termination codon (nonstop mRNA) has been proposed in which Ski7p is thought to recognize stalled ribosomes at the 30'end of mRNA. He reported the analysis of translation and decay of nonstop mRNAs in Saccharomyces cerevisiae and that the reduction of nonstop mRNAs was only 4.5- fold, a level that is sufficient for residual protein synthesis, translation products of nonstop mRNAs were hardly detectable. A nonstop mRNAs were associated with polysomes, but not with Pab1p. His data suggest that ribosome stalling at the 3' end of nonstop mRNA may block further rounds of translation, hence repressing protein synthesis, and that the 5'-3' decay pathway was accelerated for nonstop mRNA decay in the absence of Ski7p, and the translation of aberrant mRNAs with a shortened 30-UTR was repressed, suggesting that an improper spatial distance between the termination codon and the 3' end of mRNA results in translation repression (Inada et al., 2005). Another Japanese team based in Nagoya reported that mRNA surveillance system represses the expression of nonstop mRNA containing a poly(A) tail by rapid mRNA degradation and translation repression, and protein destabilization partly by the proteasome (Ito-Harashima et al., 2007).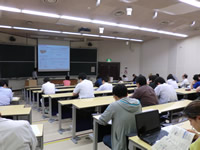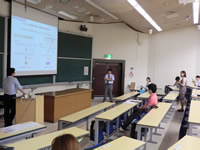 Finally, Prof. Inada finished with talking about the ribosome quality control (RQC) and the role of abnormal translation quality management system in nerve cells with the involvement of NMD factor (Upf3b) which mutation is associated with mental retardation, RQC factor (Listerin) and a RQC/NSD factor (GTPBP2) where the ribosome stalling induced by mutation of CNS-specific tRNA causes neurodegeneration.
文責:病理診断学分野 大学院生 GUESTINI FAOUZIA
撮影:画像情報学分野 大学院生 一関 雄輝
※所属や職名などは、記事発表当時のものとなっております。