Clinical Medicine, Physiology
Obstetrics
Bring Up Perinatal Specialists to World-class
Faculty
SAITO, Masatoshi

SAITO, Masatoshi

*Concurrent Position

Professor, M.D. Ph.D.

TEL

+81-22-717-7251

Mail

ob-gy*med.tohoku.ac.jp (Please convert "*" into "@".)
Research Theme
Fetal physiology
Pathology of the placenta
Maternal complication
Research Keywords:
obstetrics and gynecology, perinatal medicine, reproductive medicine, clinical genetics
Technical Keywords:
physiology, pathology, advanced medical technology, animal experimentation
Laboratory Introduction
We are treating a lot of pregnant women with the many underlying diseases and responding to fetal abnormalities and lifesaving diseases in cooperation with many special doctors of the internal medicine, psychiatry, surgery, IVR department, emergency medical care center, anesthesiology and laboratory technicians.
We have about 1,000 of labors per year (of which 400 cases were cesarean section) in addition, two hundred cases of emergency transport.
As a basic research that was conscious of clinical application, we are studying as follows,
mechanism of placental dysplasia and pathogeneses of pregnancy hypertension syndrome, management of postpartum hemorrhage, mechanism the maternal glucose and lipid metabolism and endocrine environment affect to the fetus, influence the maternal drug during pregnancy to psychomotor development of children, new extraction of postpartum depression of parents and various harmful effects that affect the psychomotor development of children, and creation of the intrauterine acute-chronic inflammation model with pregnancy sheep which will ultimately develop more strategic appropriate method for diagnosis, kinetic analysis, and treatment of intrauterine inflammation during pregnancy.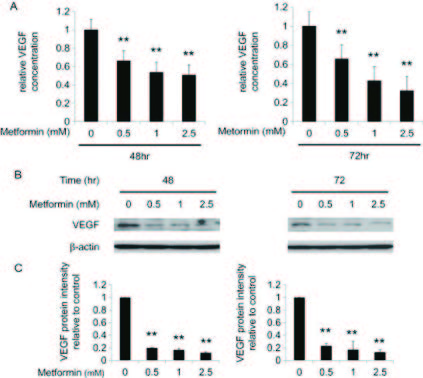 Figure 1. Effects of metformin on VEGF protein expression in ELT-3 cells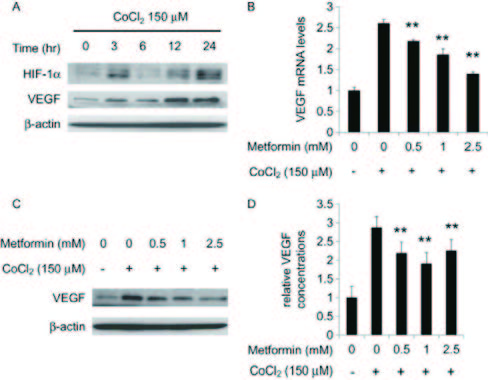 Figure 2. Effects of metformin on VEGF expression induced by hypoxia-mimicking conditions
Recent Publications
Tanaka S, et al. The role of 5α-reductase type1 associated with intratumoral dihydrotestosterone concentration in human endometrial carcinoma Molecular and Cellular Endocrinology. 2014. Nov. 29 in press
Tadakawa M, et al. The anti-diabetic drug metformin inhibits vascular endothelial growth factor expression via the mammalian target of rapamycin 1/hypoxia inducible factor-1α signaling pathway in ELT-3 cells Molecular and Cellular Endocrinology. 5;399:1-8 ,2015
Sato T, et al. Pregnancy outcomes in women with type 1 and type 2 diabetes mellitus in a retrospective multi-institutional study in Japan. Endocrine Journal 61(8):759-64,2014
Sugiyama T, et al. A retrospective multi-institutional study of treatment for mild gestational diabetes in Japan. Diabetes Research and Clinical Practice. 103:412-418, 2014
Saito M, et al. Polymyxin B Agonist Capture Therapy for Intrauterine Inflammation: Proof-of-Principle in a Fetal Ovine Model. Reproductive Science (5):623-31,2014