Clinical Medicine, Oncology
Breast and Endocrine Surgery
Our Mission is to Cure Breast and Thyroid Cancer by Advancing the Promising Research of J-START and Nano-medicine
Faculty
ISHIDA, Takanori

ISHIDA, Takanori

Professor, M.D. Ph.D.

TEL

+81-22-717-7210

Mail

adachi.y*med.tohoku.ac.jp (Please convert "*" into "@".)
Research Theme
Molecular biology and pathology: Basic investigation of breast and thyroid diseases based on genetics, molecular biology and pathology
Nanomedicine: As a industrial academic government cooperation research, we promote an nanomedicine research with fluorescence nanoparticles
Strategic Anti-Cancer Randomized Trial: Japan Strategic Anti-Cancer Randomized Trial (J-START) to certify effectiveness of ultrasonography for breast cancer screening
Research Keywords:
breast cancer, mammography, nano medicine, screening, thyroid cancer
Technical Keywords:
tumor infiltrating lymphocyte, fluorescence nano-imaging, large randomized controlled trial, J-START
Laboratory Introduction
The Division of Surgical Oncology, succeeding the former Second Department of Surgery aims to contribute to human health improvement through cancer research in the lights of basic and clinical sciences, and education of young fellows.
・ Diseases covered: Breast, thyroid and others.
・ Researches highlighted:
Molecular Biology and pathology: Basic investigation of breast and thyroid diseases based on genetics, molecular biology and clinical pathology.
Nanomedical Science: As a translational research, we promote an interdisciplinary alliance to apply nanotechnology on novel medical science, with investigators specializing material, engineering, and physical sciences.
Evaluation of Cancer Screening: We have established mammography screening in Japan on the basis of effectiveness analysis. Now, we are promoting a large-scaled clinical trial to establish new modality for cancer screening.
Strategic Anti-Cancer Randomized Trial: As a leader of the National Project "The 3rd Anti-cancer Comprehensive Strategic Research" by the MHLW, we are currently conducting "Japan Strategic Anti-Cancer Randomized Trial (J-START)" to certify effectiveness of ultrasonography for breast cancer screening.
We are forwarding to authorize graduate students and young fellows for next generation as researchers, to develop new techniques for cancer diagnosis and therapy, and contribute to public health with providing outcomes internationally.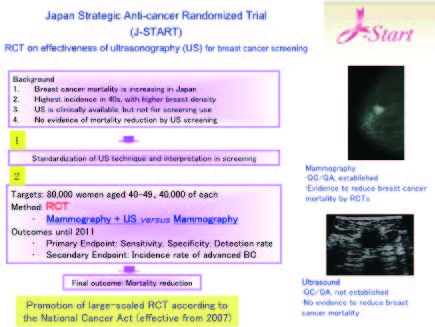 Figure 1. J-START: RCT on effectiveness of ultrasonography for breast cancer screening
Figure 2. Quantitative analysis of cancer protein by fluorescence nanoparticle
Recent Publications
Miyashita M, Sasano H, Tamaki K, et al. Tumor-infiltrating CD8+ and FOXP3+ lymphocytes in triple-negative breast cancer: its correlation with pathological complete response to neoadjuvant chemotherapy. Breast Cancer Res Treat 148: 525-534, 2014
Sato K, Miyashita M, Ishida T, et.al.: Prognostic significance of the progesterone receptor status in Ki67-high and -low Luminal B-like HER2-negative breast cancers. Breast Cancer, DOI 10.1007/s12282-014-0575-6. 2014
Ishida T, Suzuki A, Kawai M, et.al. A randomized controlled trial to verify the efficacy of the use of ultrasonography in breast cancer screening aged 40-49 (J-START): 76 196 women registered. Jpn J Clin Oncol 44: 134-140, 2014
Fujii R, Hanamura T, Suzuki T, et al. Increased androgen receptor activity and cell proliferation in aromatase inhibitor-resistant breast carcinoma. J Steroid Biochem Mol Biol 144 Pt B: 513-522, 2014
Suzuki A, Ishida T, Ohuchi N. Controversies in breast cancer screening for women aged 40-49 years. Jpn J Clin Oncol 44: 613-618, 2014