Nursing, Oncology
Oncology Nursing
Realizing Care to Improve Cancer Patients' Quality of Life: Developing Telenursing Systems and Care for Rebuilding Life after Cancer Treatment
Faculty
SATO, Fumiko

SATO, Fumiko

Professor, R.N. Ph.D.

TEL

+81-22-717-7926

Mail

fsato*med.tohoku.ac.jp (Please convert "*" into "@".)
Research Theme
Intervention to prevent and improve impaired upper limb function following surgery for breast cancer
Stress and quality of life in cancer patients
Telenursing system for cancer patients
Research Keywords:
oncology nursing, quality of life, telenursing, rehabilitation
Technical Keywords:
intervention study, patients survey, technical innovation
Laboratory Introduction
We are conducting multifaceted research to develop care for improving cancer patients' quality of life (QOL). An intervention study is currently underway on building a comprehensive long-term rehabilitation care program based on the effects and outcomes of long-term interventions at 5 years after surgery. This work is being done as part of developing an intervention program to prevent and improve impaired upper limb function in breast cancer survivors. Findings at 3 years after surgery suggest that interventions to facilitate self-care through daily self-monitoring of upper limb function, and consultation with doctors on adjusting rehabilitation and lifestyle, may help prevent and improve impaired upper limb function after surgery. Since 2014 we have also been developing a telenursing system for prostate cancer surgery patients. Doctors and nurses in a remote location check data sent via the cloud and manage ongoing rehabilitation, providing advice and other such nursing care. This system provides effective complementary assistance for patients receiving treatment at home. Using studies and surveys on QOL in various cancer patients, we hope to investigate care for rebuilding cancer patients' lives after surgery.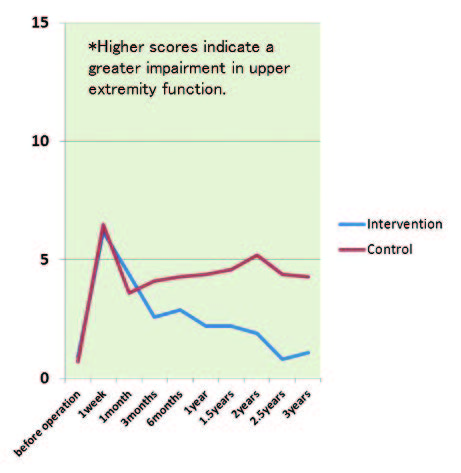 Figure 1. Comparison of subjective evaluation of an upper arm dysfunction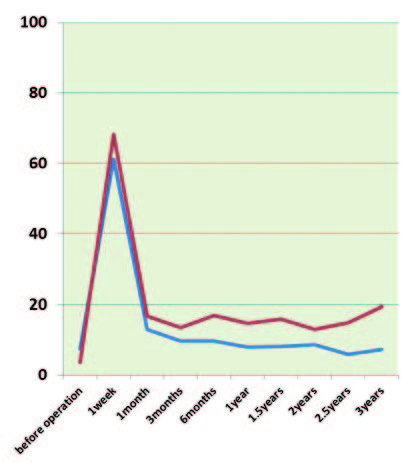 Figure 2. Comparison of the disability of the arm, shoulder hand
Recent Publications
Arinaga Y, Sato F, Piller N, Kakamu T, Kikuchi K, Ohtake T, Sakuyama A, Yotsumoto F, Hori T Sato N, A 10 Minute Self-Care Program May. Reduce Breast Cancer-Related Lymphedema: A Six-Month Prospective LongitudiNal Comparative Study, Lymphology 49, 93-106, 2016.
Sato F, Arinaga Y, Sato N, Ishida T, Ohuchi N, The Perioperative Educational Program for Im proving Upper Arm Dysfunetion in patients with Breast Cancer at I-Year Follow-Up: A prospective, Controlled Trial. Tohoku J. Exp. Med. 238. 187-265. 2016.
Sato N, et al. Immunolocalization of corticotropin-releasing hormone (CRH) and its receptors (CRHR1 and CRHR2) in human endometrial carcinoma: CRHR1 as a potent prognostic factor. .Int. J. Gynecol. Cancer Nov; 24(9):1549-57, 2014
Sato F, Ishida T, Ohuchi N. The Perioperative Educational Program for Improving Upper Arm Dysfunction in Patients with Breast Cancer: A Controlled Trial, Tohoku J. Exp. Med. 232,115-122, 2014
Sato N, et al. Corticotropin-Releasing Hormone Receptor 1 Gene Variants in Irritable Bowel Syndrome. PLoS ONE, 7(9): e42450.doi:10.1371/journal.pone.0042450, 2012