Nursing, Oncology
Palliative Nursing
At the Department of Palliative Nursing, We Study on Palliative Care, One of the Most Needed Specialties in Cancer Nursing
Faculty
MIYASHITA, Mitsunori

MIYASHITA, Mitsunori

Professor, R.N. P.H.N. Ph.D.

TEL

+81-22-717-7924

Mail

miya*med.tohoku.ac.jp (Please convert "*" into "@".)
Research Theme
Evaluation of quality of palliative care
Evaluation of quality of life in patients and families with cancer
Survey on end-of-life care
Research Keywords:
palliative care, terminal care, nursing, quality of life, quality of care
Technical Keywords:
survey, measurement, quality assurance, evaluation study
Laboratory Introduction
At the Department of Palliative Nursing, we study on various topics related to palliative care, one of the most needed specialties in cancer nursing. One of our major mission is to develop and provide palliative nursing care, which improves the quality of life of patients and their families facing the problem associated with life-threatening illness, through the prevention and relief of suffering by means of early identification and impeccable assessment and treatment of pain and other problems, physical, psychosocial and spiritual. Graduate students are qualified for an examination of certified nurse specialist in cancer nursing.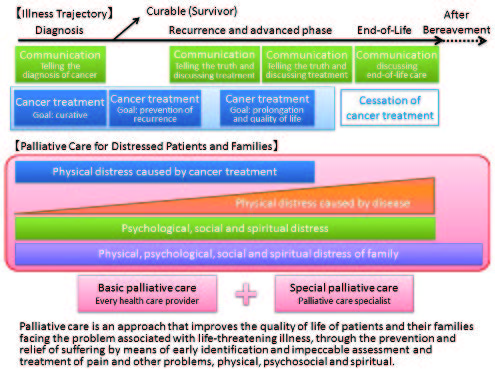 Figure 1. Illness trajectry and palliative care in onclogy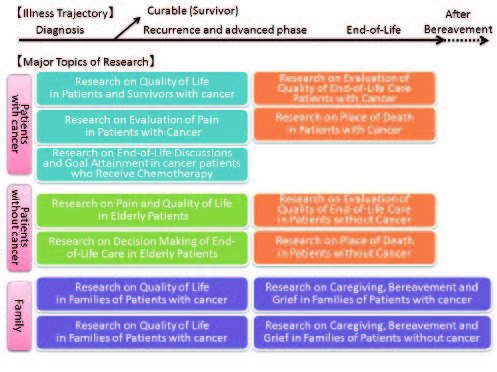 Figure 2. Major topics of research
Recent Publications
Kinoshita H, Maeda I, Morita T, Miyashita M, Yamagishi A, Shirahige Y, Takebayashi T, Yamaguchi T, Igarashi A, Eguchi K. Place of Death and the Differences in Patient Quality of Death and Dying and Caregiver Burden. J Clin Oncol. 2015;33(4):357-63.
Morita T, Miyashita M, Yamagishi A, Akiyama M, Akizuki N, Hirai K, Imura C, Kato M, Kizawa Y, Shirahige Y, Yamaguchi T, Eguchi K. Effects of a programme of interventions on regional comprehensive palliative care for patients with cancer: a mixed-methods study. Lancet Oncol. 2013;14(7): 638-46.
Miyashita M, Morita T, Sato K, Tsuneto S, Shima Y. A nationwide survey of quality of end-of-life cancer care in designated cancer centers, inpatient palliative care units and home hospices in Japan: the J-HOPE study. J Pain Symptom Manage. (in press)
Sato K, Miyashita M, Morita T, Tsuneto S, Shima Y. Family member perspectives of deceased relatives' end-of-life options on admission to a palliative care unit in Japan. Support Care Cancer. 2012;20(5):893-900
Miyashita M, Morita T, Hirai K. Evaluation of end-of-life cancer care from the perspective of bereaved family members: The Japanese experience. J Clin Oncol. 2008; 26(23): 3845-52.