Basic Medicine
Infectious Disease
Integration of Developmental Biology into Therapeutic Research on Viral Infections
Faculty
KODAMA, Eiichi N

KODAMA, Eiichi N

Professor, M.D. Ph.D.

TEL

+81-22-717-8220

Mail

skb96*irides.tohoku.ac.jp (Please convert "*" into "@".)
Research Theme
Development of antiviral agents
Mechanism of resistance
Research Keywords:
virus, rational drug design, resistance, mutation
Technical Keywords:
Drug development, Chemical biology, induction of resistance, biosafety
Laboratory Introduction
Viruses rapidly and effectively adapt to their given environment. Once viruses acquire infectivity to human, they show apparent and/or silent endemics like influenza viruses or human immunodeficiency viruses. For sufficient infection, they also have to fight with host immune system.
To overcome these suppressive factors for virus replication, evolution is a key role in virulence. Accumulation of numerous mutations enables viruses to fit with new host and to escape from immune system. It looks like a short history of biological evolution and diversity. Only the most adapted viruses can survive, while those without genetic changes nor adaptation will disappear.
In addition to the host immune system, we have developed robust weapons, antiviral agents. However, we understand that resistant viruses emerge under antiviral pressure. In our laboratory, we focus on aquisition of drug resistance and development of effective agents for these resistant variants, and pave the way for the novel viral therapeutics and pandemic/outbreak management.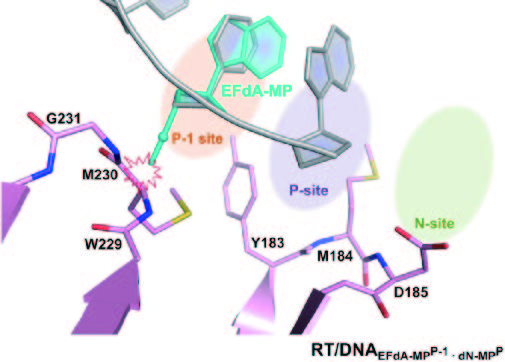 Figure 1. Expected steric interactions between the 4'-ethynyl moiety of nucleoside reverse transcriptase (RT) inhibitor, EFdA-monophosphate Z. L. Salie <i>et al. PNAS</i> 2016;113:9274-9279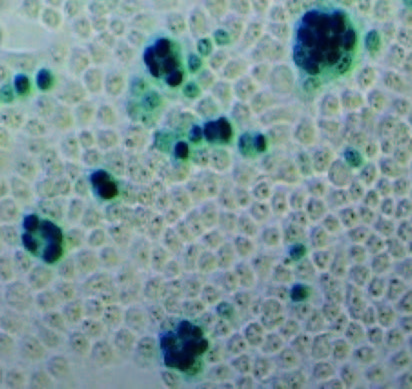 Figure 2. HIV-1 infected MAGI cells stained with X-Gal are shown. F Miyamoto <i>et al. AVCC</i> 2015; 24:77-82
Recent Publications
Salie Z. L. et al. Structuralbasis of HIV inhibition by translocation-defective RT inhibitor 4'-ethynyl-2-fluoro-2'-deoxyadenosine (EFdA). Proc Natl Acad Sci U.S.A., 113:9274-9, 2016.
Watanabe M. et al. A novel peptide derived from the fusion protein heptad repeat inhibits replication of subacute sclerosing panencephalitis virus in vitro and in vivo. PLoS ONE 11: e0162823, 2016.
Asai T.et al. Use of a biosynthetic intermediate to explore the chemical diversity of pseudo-natural fungal polyketides. Nat Chem7: 737-43, 2015.
Hatanaka Y. et al. Histone chaperone CAF-1 mediates repressive histone modifications to protect preimplantation mouse embryos from endogenous retrotransposons. Proc Natl Acad Sci U.S.A., 112:14641-6, 2015.
Miyamoto F. et al. Anti-HIV-1 activity determined by β-galactosidase activity in the multinuclear activation of an indicator assay is comparable with that by a conventional focus counting method. Antiviral Chem Chemother 24:77-82, 2015.